"My dog immediately relaxes. This blanket is amazing."

Size: 80cm x 60cm
This premium quality cotton weighted blanket can help reduce stress, relieve anxiety and improve sleep in small dogs. This includes breeds such as Schnauzers.

Select the weight for your dog weighted blanket from the dropdown menu. (We recommend 10% of your dog's body weight or the next weight up if they are in between weights.)
Please scroll down to view our easy-reference table.

Choose your favourite cotton colour from the swatches.

Add to cart and check out.
We make each cotton weighted blanket for a small dog of coloured cotton drill in our factory in Mandurah, WA.
The secret to the blanket's calming effect is its weight. This comes from fine micro glass beads that have no sharp edges.

The glass beads mean that there is no disturbing rustling or swooshing noise so that your pet can sleep peacefully.

We fill each weighted blanket with two layers of cotton wadding. This keeps the micro glass beads that provide the weight in place so there is no "bunching" or "pooling" of the beads. This means that the beads stay evenly distributed for the best calming effect.

Which all means that Calming Pets' weighted blankets can help your dog:
☑️ Sleep better for longer;
☑️ Feel calmer and less anxious;
☑️ Not be stressed by external factors like loud noises.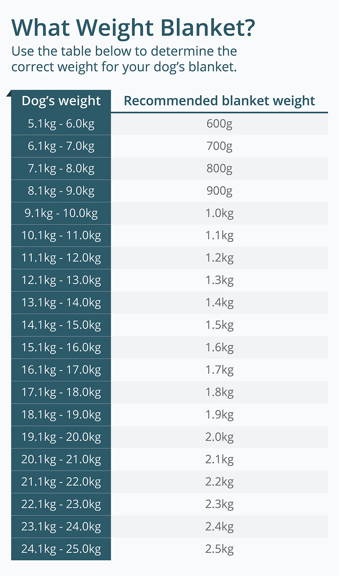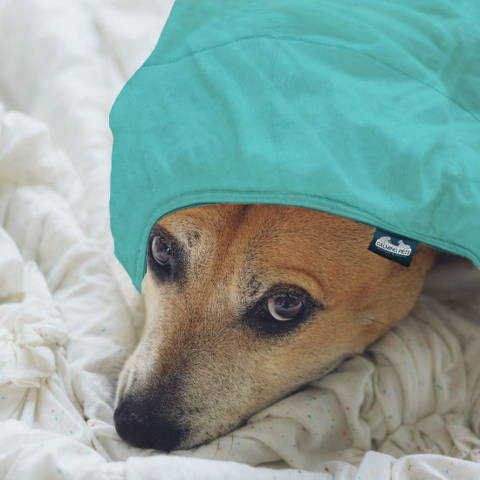 Easily works to calm a dog's anxiety
NO NEED FOR SEDATIVES OR MEDICATION THAT MAKE A DOG FEEL WOOZY.
Plus choose your favourite fabric from our selection of cotton, snuggly raised dot sensory minky, plush smooth minky and practical water-resistant options.
So that the weighted blanket fits your lifestyle and home.
PLUS, every Calming Pets' weighted blanket is machine-washable on cold, gentle cycle.
CALM YOUR DOG'S ANXIETY TODAY
No more messing up your home or crying outside. No more panicking when there are loud noises or storms outside. No more quivering with fear in the car.

The result? A happy owner who enjoys spending time with their dog. And knows that they can relax when the dog is in a potentially stressful situation.