5 Ways to Calm Your Dog's Travel Anxiety - Without Medication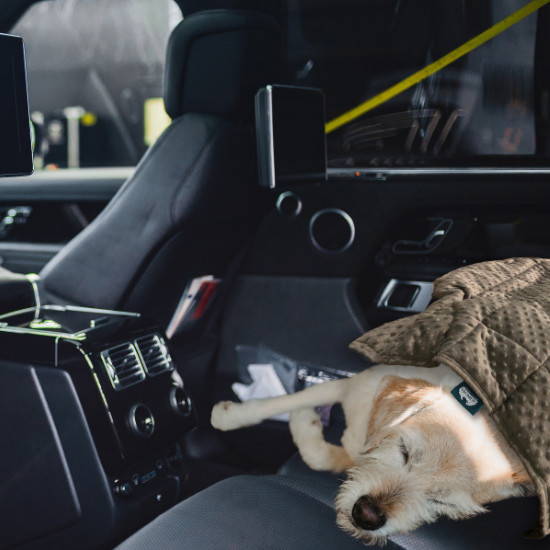 If your dog is terrified in the car, it can make everyone else miserable too.
And perhaps you - like me - feel guilty for giving your dog sedatives so that you can move them from point A to point B without them being either a puddle of jelly or a danger to themselves and everyone else in the car.
Here are 5 things that you can do to calm its anxiety - without medication. So that you all arrive at your destination feeling calm and happy:
Desensitisation by training your dog to like the car;

Keep the temperature inside the car cool;

Play soothing music inside your car;

Exercise your dog before they get into the car; and

Use a weighted blanket to calm your dog's anxiety in the car.
Let's flesh these out in more detail.
#1: Desensitisation: train your dog to at least tolerate the car
This strategy takes time and effort, but it can be worthwhile.
The first step is to load up on the dog treats.
Start in the driveway, just looking at the car. Then take a step or two towards the car. Stop and reward the dog. Keep repeating until your dog won't go any further or runs away.
The next day begin at your starting point and repeat yesterday's exercise. Keep repeating this until you get your dog into the car.
Make sure they are secured safely in either a car travel seat or a crate.
At this point, shift to stage 2 of the desensitisation training. Switch on the car and drive a very short distance. Say to the bottom of the driveway.
The next day repeat and go a little further. Keep repeating until you can reach a destination that your dog associates with a positive experience - say a dog park or beach. (Please do not make any trips during this training phase to potentially stressful destinations like the vet or dog grooming salon.)
Then layer on longer and longer trips, until your dog is at least a calm passenger.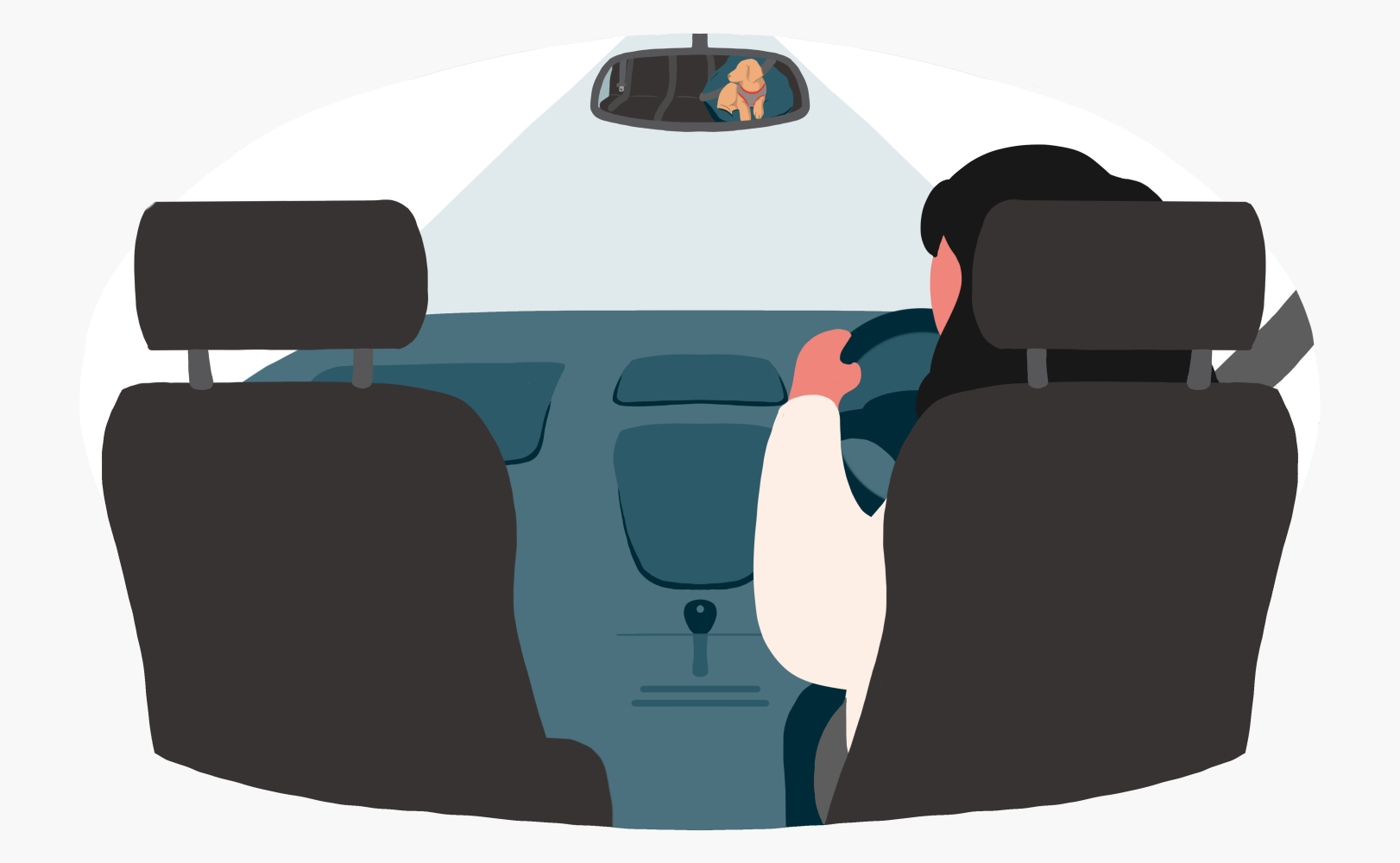 #2. Make sure the car is cool and comfortable
Dogs are more heat-sensitive than humans and some dogs will feel nauseous if they are too hot.
This means your dog will travel better if they're not feeling hot and bothered.
#3. Play soothing music in the car
Some dogs find calming music soothing. You can get music collections developed especially for dogs - but the reality is any restful music will do - including pop ballads or classical music.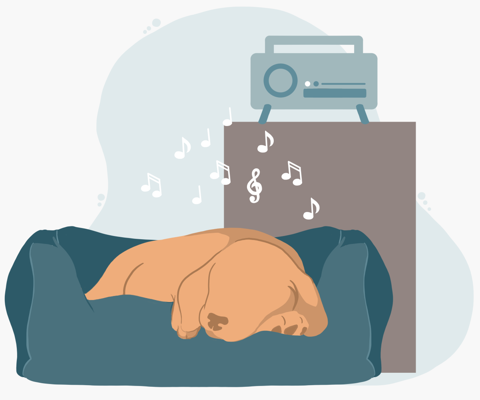 #4. Exercise your dog before taking a trip
Exercise releases feel-good hormones that can help relieve stress in both dogs and humans. This means that taking your dog for a 20-minute walk, run or run-around can help them cope better in the (for them) stressful environment of the car.

#5. Use a weighted blanket to help calm your dog's stress and anxiety
You may have heard that weighted blankets can help calm people in stressful or anxiety-inducing situations. Well, they can help dogs too as dogs have the same central nervous system structure as humans.
Weighted blankets work by using Deep Pressure Touch. This is a firm but gentle pressure that calms the mind and body.
Deep Pressure Touch works in three phases to calm your dog physically and mentally.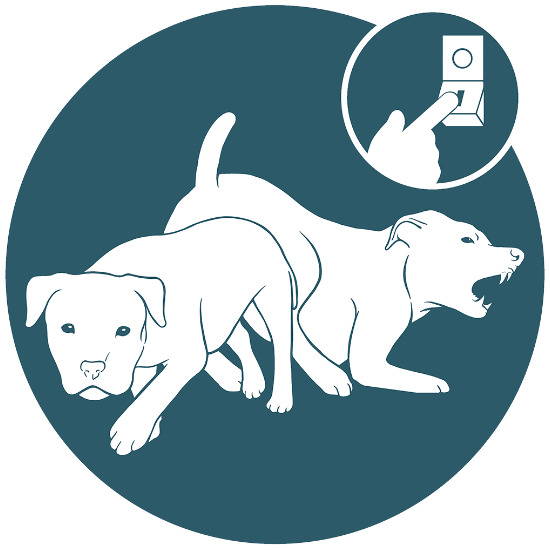 Deep Pressure Touch switches off your dog's body's "fight or flight" response.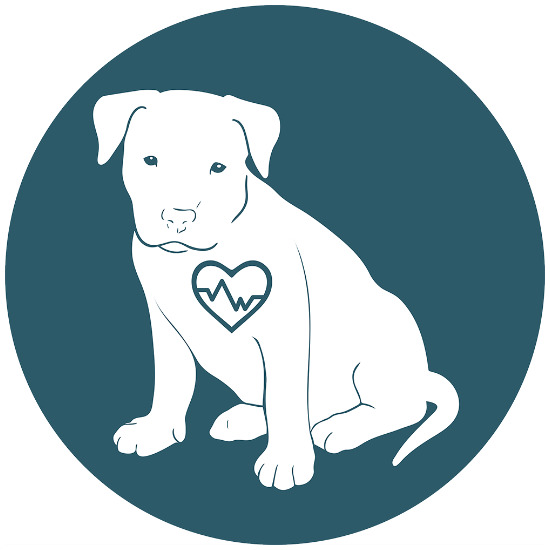 Deep Pressure Touch physically slows the heart and breathing rates. This means that your dog's body feels calmer.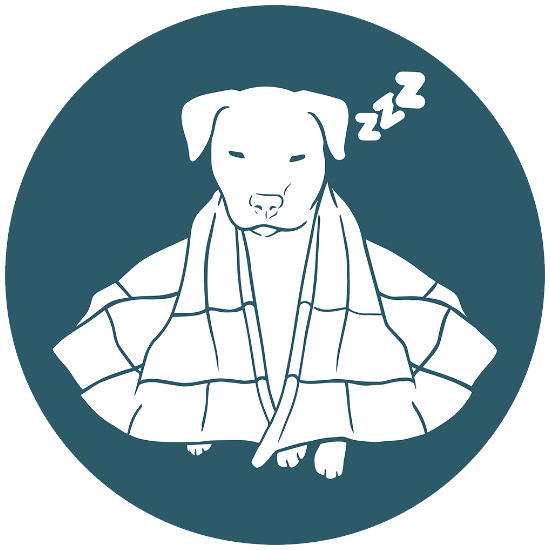 Deep Pressure Touch then floods your dog's blood stream with "feel-good" neurotransmitters and hormones that calm the mind.

And this combination of a calmer mind and body will help your dog relax in stressful situations such as travelling in the car - without medication.
What size dogs do we make weighted blankets for?
Calming Pets makes weighted blankets for all sizes of dog from extra-small dogs like Chihuahuas to extra-large dogs like Great Danes.
Which dogs shouldn't use weighted blankets?

We do not recommend that flat-faced breeds such as bulldogs and pugs use weighted blankets due to their restricted breathing anatomy.
Here are just some of the reviews that tell our customers' stories of how our weighted blankets have helped their dog's anxiety.
"She immediately relaxes. This blanket is amazing"

I have a Miniature Schnauzer, Ruby. Along with her age, she suffers severe anxiety.
Her blanket is incredible. She actually gets ON her weighted blanket and makes noises until I place the weighted blanket OVER her. She immediately relaxes. This blanket is amazing.
- Natalie F

My pooch gets anxious when having to drive in the car.
Placing her under the blanket helps her to stay calm and we all arrive happy.
- Kathleen C
"Now she is calm and settles within seconds of the blanket being put over her"

I have an extremely damaged rescue pup who we adopted in 2017. She came to us with severe anxiety due to being beaten, abused and neglected for the first 8 months of her life. We had multiple trainers and behaviourists assess her and resulted in medicating her to try and calm her down.
About 6 months ago I came across weighted blankets and figured it couldn't hurt to try something else to ease her anxiety and this by far was the best thing we have EVER bought for her!
Some nights she would be uncontrollable even with medication, she would be unsettled, nervous and frantic. It could take hours to get her to sleep, settle or just keep still.
Now, she is calm and settles within seconds of the blanket being put over her!! It is now a part of her regular routine and she will alert me when she needs it during the day and waits to be covered in it every night!!!
Hands down worth every single cent! We have had the most success for using this blanket than we had with medicines!
I would highly recommend to anyone struggling with anxious pets.
- Chlo E
"Works wonders for storms and other loud noises"

We have a 3 year old rescue male Rottweiler who we adopted 18 months ago. He came to us with severe anxiety. We tried everything to help him overcome this!!
A friend suggested a weighted blanket. Since we bought it he has been a different doggie!!
He asks for us to put it on him at bedtime. It has worked wonders for storms and any other loud noises like tradies working in the area. We got a 5kg minky and cotton one!
Thank you Calming Pets for helping my furbaby.
- Paula G
Calming Pets' weighted blankets are made with the correct - and safe - weight to help calm your dog
We custom-make each weighted blanket with the right weight that gives their unique body the best calming effect.
We have a wide selection of fabrics for you to choose from - coloured cottons, snuggly raised dot sensory minky, luxurious smooth minky or water-resistant fabrics. All available in an amazing selection of different colours. This means that you get a weighted blanket that suits your lifestyle and looks beautiful too.

Plus, you can get 20% off today when you use your coupon code at checkout.
Our weighted blankets for dogs are: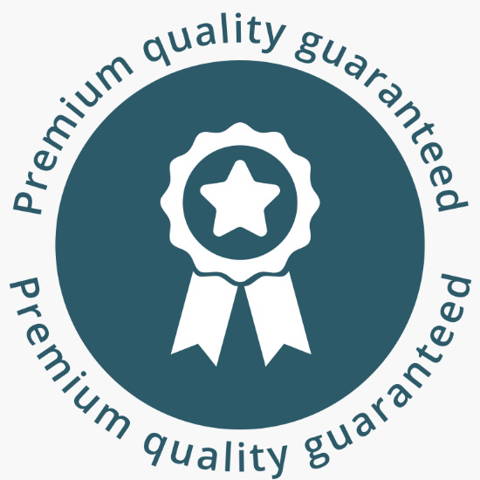 Premium quality
We manufacture to high standards using high quality inputs. This means that you can be sure of the excellent workmanship and that it will last.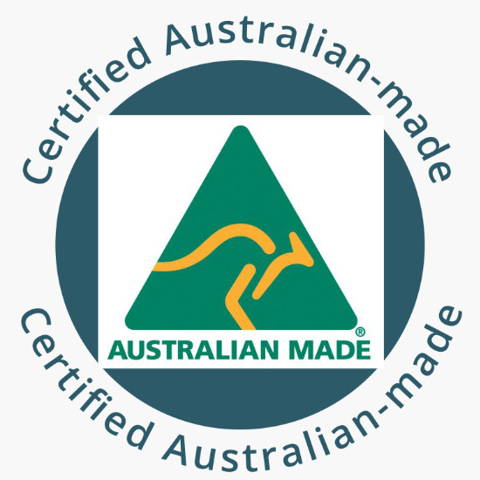 Certified Australian-made
We make them with love and care in Mandurah, WA - so that you know that it will be made with the correct weight that gives the best calming effect for your dog.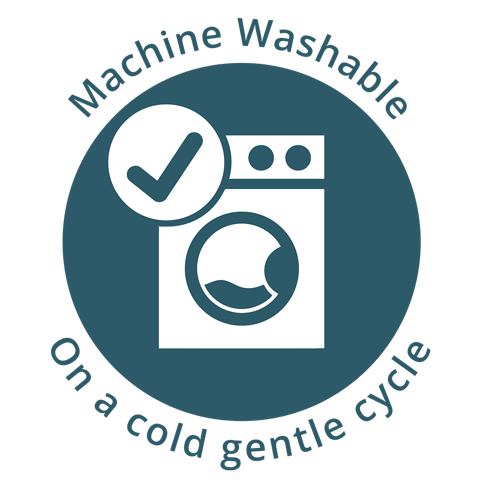 Machine-washable
Using cold, gentle cycle. A practical way to manage any dog mess.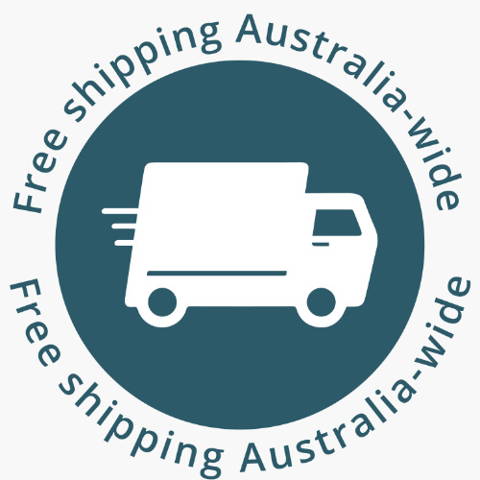 Shipped free in Australia.
To get your dog a calming weighted blanket, firstly determine the right size blanket. You can use the easy-reference chart below.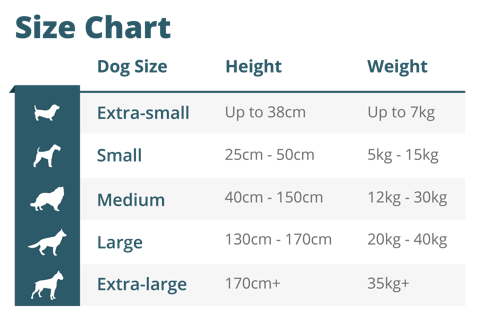 So don't delay. Get your Calming Pets' weighted blanket for a dog today. Choose the correct size weighted blanket for your dog below and travel happily with your dog to all your destinations.